218.8
So, you hear about all those girls who think they're fatter than they are, right? Yeah. I'm the opposite. I think I'm MUCH smaller than I actually am! I just looked at pictures from the Rock and Stroll, and its like "whoa, hello there big girl."
Oh, the Rock and Stroll. Went SUPER well, we finished the 6k in about 40min. Sarah and I ran/walked together the whole time, and I felt pretty great afterwards. Tired, sure, but not puking dying. We probably would have run more, but there was a long stretch of gravel that was giving the stroller babies shaken-baby syndrome. Well, at least they slept. We ran most of it, maybe only walked about 3/4 of a mile.
So these pictures... we were having fun, I thought I looked like a super cute young mama. I was excited and happy and motivated. Now, I'm just depressed, understanding my denial...but still motivated!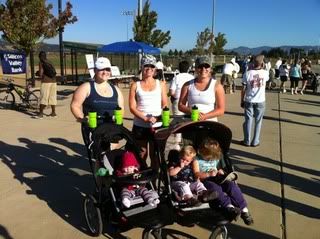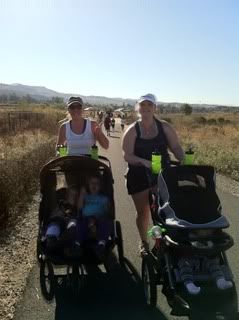 This totally embarrasses her, but the size Sarah is right now is like my ideal size...the way I was when I came back from tour. So these pictures...it's like a side-by-side before and after. The good news is I'm so fat that 3.7mi burned 541 calories! Yay...
Ugh. Anyway. I'm Jay Robb Fruit Flushing today, tomorrow and most of Tuesday. It was easy today, which is 6ox protein shakes every 2 hours, and a big-ass salad w/ chicken for dinner. It's hotter than Hades, and I've been cleaning house all day. Haven't wanted to eat! Trevor tested my will-power when he had me make him bacon for his BLT, and brought home Oreos from the store. I will not cave, I will not cave.
Oh well. At least I have a beautiful, supportive family unit. <3