Ew. I ate FAR too much yesterday, as I always do at the in-law's for holidays. We stopped at SBUX on the way in, and split a breakfast sandwich, hoping that would curb my appetite....but no. Arrived to the usual spread of stuffed mushrooms, chicken-artichoke dip, and shrimp cocktail. Grazed, then ate dinner of ham, new potatoes, brussel sprouts and mashed turnip. Then strawberry-rhubarb crumble.
Oh, did I mention I made seven dozen oatmeal-chocolate cookies each the night before? Yeah...
How am I doing?
I woke up this morning feeling TERRIBLE. Dehydrated with heartburn worse than pregnancy, and my stretchy pants were suffocating me. But, it being the baby's first Easter (and my boyfriend's birthday) we were overloaded with candy. After a quick sort through the bounty, we threw most of it away: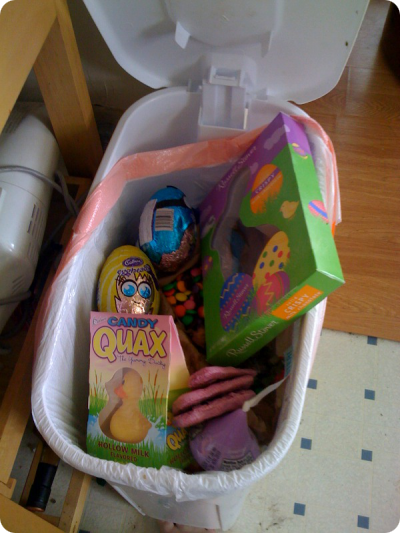 Buh bye. We only kept a few pieces of Scottish candy that we only get once a year, and started eating fresh again this morning with Panera salads for brunch. I'm now sipping black coffee to kill the sugar racing through my blood stream, and am considering my diet for the next week or so. I'm thinking about going back on Wave 1 of the Sonoma Diet to get everything back on track. Who's with me?
crossposted on Pilates Napa Valley