Damn, I'm good.
I went to Old Navy today to buy a pair of jeans. I knew I would leave with a pair, even if they were size 16's. The bigger stores have all the sizes in stock.
Well!
Came home with TWO pairs of jeans, a jean skirt, and a few shirts just for fun, and they're all 14, slim fit, low waist.
And
no
muffin-topping or ass-cracking. They're not too tight at all, like where I'd normally say "Oh, I need to just break them in." I guess 5 lbs does make a difference, huh?
Luckily I got all of that for $140, so I didn't break the bank. I'll probably keep buying jeans from there until I decide I'm done losing weight. I'm losing it so fast, I don't want to spend $100 on one pair of jeans alone.
Ahh! I'm so close to 15lbs. This is ridiculous. I still kinda feel the same tho. Like when I look at my body, it's all the same shape, just smaller proportions. I can't wait to see a different silouette, and I think it's right around the corner :D
edit: After wearing my jeans to a hockey game, and not doing anything particularly active, I was pulling my NEW jeans up all night, because they kept falling down. Hah!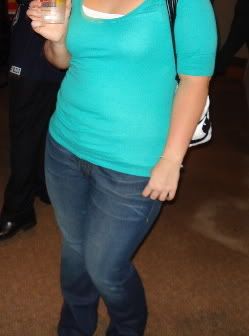 Trev cut off my head, but my body is bangin. All new clothes. Doesn't show my hot leopard heels tho :(